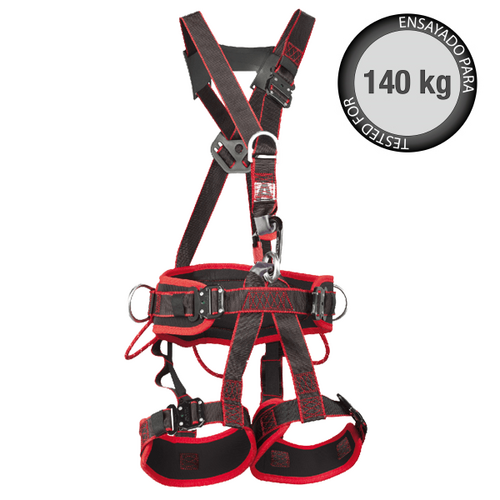 Price And Quantity
13400.00 - 13400.00 INR/Unit

13400 INR/Unit

1 Unit
Product Specifications
Yes

Body Harnes

Climbing , Trekking

Unisex
Trade Information
2-3 Week

All India

CE Certication Norms: EN 358:1999 (safety belt) EN 361:2002 (fall arrest harness) EN 813:2008 (sit harness) Regulation (EU) 2016/425 Control body number: N º 0161
Product Description
Fall arrest (EN 361 CE)
Positioning (EN 358 CE)
Suspension (EN 813 CE) 2 fall arrest Widthring points (A): dorsal and chest
Ventral suspension Widthr point
2 lateral folding positioning buckles
Quick-fit buckles on waistband, leg supports and chest
Padding weist and legs
3 material holding rings
Harness designed to support users up to 140kHarness for riding on a troll.
Comfortable for long ziplines. Imagine ride in hammock.
Harness has quick release buckles on chest and legs.
Mechanism of quick release buckles by Tracers doesn't allow to open buckle under load.
Adjustable angle for back, shoulders height and chest size.
It is possible to make changes to the product in accordance with your special requirements.
Caution! The product is intended ONLY for professional stuntmen.g
Against falls from a height: (EN 361): It has two fall arrest anchoring points (A), one dorsal (No. 1) and another chest (No. 2), formed by a D buckle, to connect a fall arrest system.

Securing and retaining work (EN 358): The lateral points distribute the load, on the belt, for work situations where positioning is required. (N3)

Suspension (work at height technique) (EN 813): presenting one ventral O-ring (No.4).This anchor point spread out the load between the belt and padded leg straps for work situations requiring suspension

45 mm wide polyester webbing.Padded back suport and leg traps.3 tool holder loops, two side and one rear.Rapid action buckles enabling an easy adjustment of the whole harness assembly.Incorporates padded legs and waist band